Anyone that undertakes long haul travel will tell you to take time out to truly relax. While on holiday you want to experience the sites and sounds of the country you are visiting but you should remember to take some 'me time'. So here is a list of our top 5 spa hotels in India where you can lie back and be pampered by their incredible staff… 
Wildflower Hall Spa, Shimla
Set among cedar forests with incredible vistas of snow capped mountains, the Spa Pavilion at Oberoi's Wildflower Hall Resort is a must. Voted 'India's Best Spa Resort' in the World Travel Awards, the spa uses plant and flower essences in its aromatherapy and Ayurveda based treatments.
The resort offers exclusive massage, yoga and Ayurvedic treatments at various locations around the hotel and its grounds. Take a dip in their open air whirlpool which has some magnificent views across the Greater Himalayas, while their indoor pool is lit with crystal chandeliers and is temperature controlled throughout the year.
Go for: The Himalayan Retreat Spa Program. This treatment includes body scrub, Indian head massage, full body massage and Himalaya cedar bath.
Wildflower Hall Spa, Simla
Amarvilas Spa, Agra
Another Oberoi property with a unique perspective. Relax in a flower filled bath with a view of the Taj Mahal. The dome roofed spa, with a white marble steam room is reminiscent of the self-indulgence of royalty. This is an ideal retreat for couples on their honeymoon and its impossible not to fall in love all over again.
Go for: The Noor-E-Taj Romance, which consists of Steam, pomegranate exfoliation, pomegranate wrap, massage and finally a bathing ritual. This signature ritual is a tribute to the beauty traditions of the Mughal royal palace.
Ways to include it in your India holiday: For inspiration on how to include Amarvilas in your India holiday, check out our Golden Triangle tours and Rajasthan tours. Any of these suggested itineraries can be upgraded to include Amarvilas in your unique tailor made holiday to India.
Amarvilas Spa, Agra
Amanbagh, Alwar
Set amongst the rugged terrain of the Aravalli mountain range, Amanbagh is the ultimate holiday getaway. The oasis like setting, boasts a highly-skilled team of experts who make use of exclusively prepared skincare products. Between your spa sessions you can practise yoga with their in-house expert, who will pass on their wisdom to rebalance the mind.
Go for: The Maharaja / Maharani massage, a combination of Swedish and deep-tissue techniques. An ideal way to wind down after exploring the ruins of an ancient empire embedded in the beautiful landscape around the property.
Ways to include it in your India holiday:  For inspiration on how to include Amanbagh Alwar in your India holiday, check out our holiday itinerary Golden Triangle & Alwar
Amanbagh Spa, Alwar
Ananda in the Himalayas, Uttaranchal
This is an award winning spa in the Himalayan foothills in Northern India. Located on a 100 acre Maharaja's Palace estate, Ananda is surrounded by Sal forests overlooking the town of Rishikesh and the Ganges river valley.
The spa integrates traditional Ayurveda, Yoga and Vedanta with international wellness experiences, fitness and organic cuisine. An ideal way to restore balance and invigorate the body.
Go for: The incredible location along with a vast assortment of treatments. The Ayurvedic Rejuvenation is our particular favourite. Designed to restore vitality of the body through various Ayurvedic treatments, diet and yoga.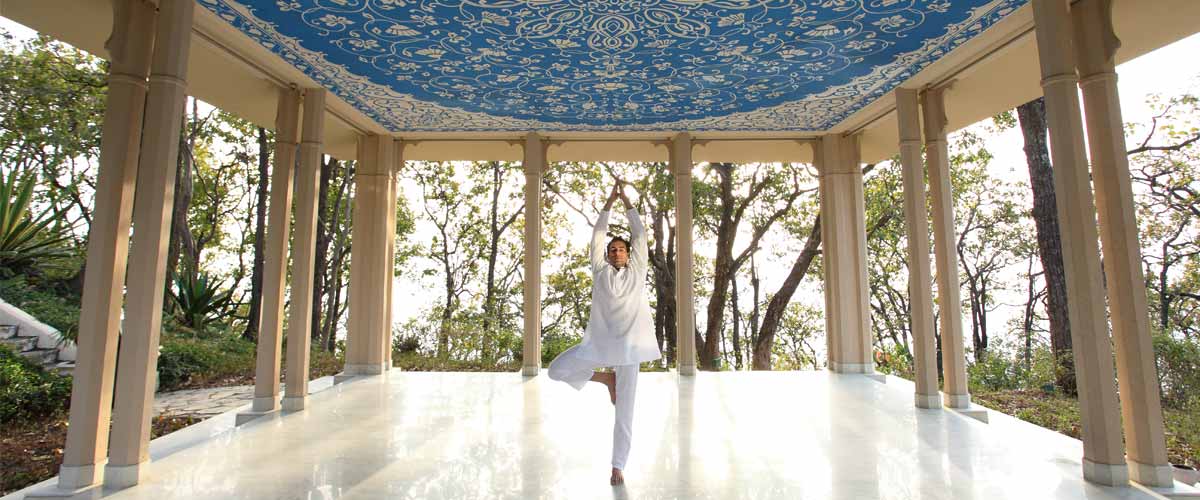 Ananda Spa, Rishikesh
Any questions?
If you've got this far and not found an answer to a question you have that we should have included on these Top 5 Spa hotels in India , please pop us an email at info@indianodyssey.co.uk
What next?
Curious about India? We suggest you bookmark this page and contact us with your bucketlist ideas for India holidays. We would be delighted to help you create your unique tailormade India holiday, whether to Golden Triangle, Rajasthan, Kerala or rest of India & its neighbours Sri Lanka, Nepal, Bhutan & Maldives. Our team of experts have travelled widely throughout India & the sub-continent. They can offer expert advice on every type of cultural trip, every possible safari or beach holiday for couples, families or your private group travel. If you would like to talk to someone who has been there and done it, please just send us an email or give us a call.